Summary
A cancellable swap is a combination of an interest rate swap and a receiver's swaption that may be cancelled by the borrower at no cost on an agreed future date.
What is a cancellable swap?
It is a combination of an interest rate swap and a receiver's swaption that may be cancelled by the borrower at no cost on an agreed future date. The cost of the swaption is embedded into the fixed rate of the swap. The swaption's strike rate is the same as the fixed rate.
Objectives
It enables the borrower to protect their borrowing costs for a defined period of time while retaining the opportunity to cancel the contract on an agreed future date(s) without incurring penalty costs. It is particularly useful if the borrower anticipates an early termination of the underlying loan.
How does it work?
The borrower has a contractual requirement to pay a fixed rate of interest and receive the floating rate (or example, three month LIBOR) under the swap. The receiver's swaption provides the borrower with the option to enter into a receiver's swap (receive the fixed rate and pay the floating rate) to negate the effect of the payer's swap at no cost to the borrower.
Advantages
It provides the borrower with a known fixed rate of interest
The borrower has the opportunity to cancel the contract on a future date at no cost
No upfront cash premium is required
Disadvantages
The fixed rate for a cancellable swap will be higher than that for a comparable (vanilla) interest rate swap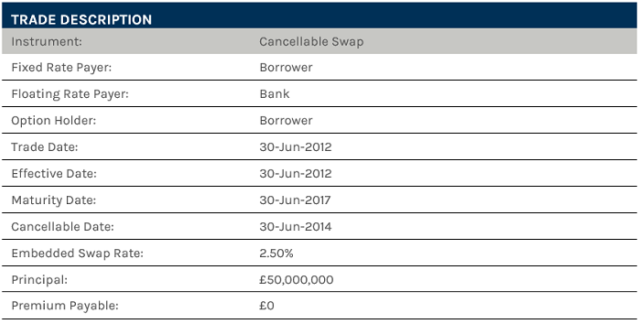 ---
Disclaimers
Chatham Hedging Advisors, LLC (CHA) is a subsidiary of Chatham Financial Corp. and provides hedge advisory, accounting and execution services related to swap transactions in the United States. CHA is registered with the Commodity Futures Trading Commission (CFTC) as a commodity trading advisor and is a member of the National Futures Association (NFA); however, neither the CFTC nor the NFA have passed upon the merits of participating in any advisory services offered by CHA. For further information, please visit chathamfinancial.com/legal-notices.
Transactions in over-the-counter derivatives (or "swaps") have significant risks, including, but not limited to, substantial risk of loss. You should consult your own business, legal, tax and accounting advisers with respect to proposed swap transaction and you should refrain from entering into any swap transaction unless you have fully understood the terms and risks of the transaction, including the extent of your potential risk of loss. This material has been prepared by a sales or trading employee or agent of Chatham Hedging Advisors and could be deemed a solicitation for entering into a derivatives transaction. This material is not a research report prepared by Chatham Hedging Advisors. If you are not an experienced user of the derivatives markets, capable of making independent trading decisions, then you should not rely solely on this communication in making trading decisions. All rights reserved.
20-0288