Russia/Ukraine tensions flare; inflation runs hot
Authors

Associate Director
Balance Sheet Risk Management

Financial Institutions | Kennett Square, PA
Summary
In another busy week, the major U.S. equity indices moved lower, extending losses from the week prior, as market participants grappled with higher-than-expected inflation data, geopolitical uncertainty, and the latest comments from Federal Reserve officials.
Economic data
Continuing with the week prior's theme, the release of the Producer Price Index (PPI) on Tuesday largely overshadowed a packed economic calendar.
According to the Labor Department, wholesale prices rose 1% in January, doubling the consensus estimate and marking the largest monthly gain in eight months, as global supply chain constraints, exacerbated by this winter's omicron variant surge, and robust consumer demand continue to push prices higher.

The higher-than-expected reading reinforced many market participants' beliefs that the Federal Reserve will raise the policy rate aggressively, in a relative context, this year to combat persistently high inflation.
To that end, JPMorgan Chase updated their rate forecast and is now predicting nine consecutive 25 basis point rate hikes over the rest of 2022 and into 2023.

After a modest monthly decline in the national ISM Manufacturing Index at the start of the month, the release of two regional manufacturing surveys last week in the form of the Empire Manufacturing Index and the Philadelphia Fed Business Outlook Survey suggest that manufacturing activity is declining further after the Empire Manufacturing Index improved only modestly from its weak January reading and the Philadelphia Fed Business Outlook Survey saw a notable decline from its January level.

Speaking to the inflationary dynamics at play, the Empire Manufacturing Index reported record-high selling prices while the Philadelphia Fed Business Outlook Survey's prices received measure also moved higher.
Looking forward, respondents' attitudes for new production are worsening as both regional surveys indicated a depressed level of new orders relative to their six-month forward expectation one month ago at the height of the global omicron variant surge.
Further, respondents are expecting lower but still historically high levels of inflation six months from now.

Finally, the January retail sales figure fared far better than the consensus expectation with sales increasing 3.8% over the month, the highest in 10 months, as consumers started 2022 better than 2021 ended.

While the report was nearly double the consensus estimate, some analysts warned the figures were somewhat misleading as sales are not adjusted for inflation which would have depressed the month-over-month gain.
Geopolitical uncertainty abounds as Russia officially recognizes Russian separatist groups in Ukraine
Investor sentiment remained sour last week as U.S. officials maintained that a Russian invasion of Ukraine was "imminent," while the Kremlin continued to assert that Russia has no plans for an invasion of Ukraine.
Sentiment briefly improved on Monday after Russian Foreign Minister Sergei Lavrov suggested the Kremlin would seek a diplomatic resolution with the West and reports from the border indicated that some Russian troops were leaving the Russia/Ukraine border.

The U.S. and other Western allies quickly disputed these claims as the U.S. suggested that rather than removing forces from the border, Russia was instead adding military capabilities to the border and had begun erecting field hospitals.

On Sunday, French President Emmanuel Macron announced that he brokered a potential summit between U.S. President Joe Biden and Russian President Vladimir Putin on the condition that Russia does not invade Ukraine before the proposed meeting. Both sides agreed to the hypothetical summit.

While encouraging, "no concrete plans" have been established according to the Kremlin and a meeting date and location remain unclear.

Tensions escalated on Monday when President Putin signed a decree officially recognizing two Russian separatist groups in Ukraine in a televised address.

The move drew widespread criticism across the globe with the U.S. claiming that Russia's recognition of the two groups violated international law, raising the likelihood that the U.S. and its allies impose economic sanctions on Russia.
In Russia's most provocative move yet, President Putin now plans to send "peacekeeping forces" into the Russian-separatist-controlled regions of Donetsk and Luhansk.
Interest rates
After several weeks of double-digit rate moves to start the year, last week's moves were relatively calm, with the front end of the curve experiencing modest declines and the long end of the curve remaining largely unchanged.

To that end, the weeks-long decline in the 2s/10s basis ended last week with the basis moving up to approximately 46 basis points, three basis points higher than where it started the week.
While the 2s/10s basis ended its decline, the same cannot be said for the Fed-watched five-year forward, five-year breakeven inflation rate which continued to see declines falling to 2.04%, largely in line with the Fed's average inflation target.

Friday's 2.04% reading marks the lowest level since early March 2021.

Looking at the Fed Funds forward curve, market participants are expecting only a 25 basis point move in March with a roughly 20% chance of a 50 basis point move priced into the curve.

The market's current pricing of just a 20% chance of a 50 basis point rate hike marks a very stark contrast to the week prior's expectations where investors briefly fully priced in a 50 basis point rate move following the higher-than-expected Consumer Price Index release and St. Louis Fed President James Bullard's hawkish comments.

Given the pickup in yields since the start of the year and a growing divergence in opinion on the path for rates across our client base, we have seen a more balanced level of activity on our desk with clients looking to position for both rising rates and falling rates depending on their risk position.

Looking at market pricing on Friday, a two-year Fed Funds receive-fixed interest rate swap offers approximately 137 basis points of relative compensation, down modestly from the 141 basis points of relative compensation seen the week prior.
Big banks offer conflicting anecdotes on first-quarter loan growth
After many financial institutions saw encouraging loan growth in the fourth quarter, earnings calls for the first quarter also included many optimistic outlooks for continued loan growth into the first quarter.
Last week at an investor conference, Bank of America CEO Brian Moynihan and Wells Fargo CFO Michael Santomassimo, offered their thoughts on the current quarter's loan growth and their expectations for the future.

Moynihan noted that core business loan growth is growing in the mid-single to upper-single digits to date but noted that the global markets segment of their business has seen a decline from the fourth quarter.
Santomassimo, on the other hand, suggested that he is "not seeing that growth continue yet," but is "optimistic things will continue in a pretty healthy way."

While we will need to wait over a month to get a clear picture of how loan growth progressed in the first quarter, weekly data from the Federal Reserve suggests that loan growth is up a modest 0.1% since year-end on a seasonally adjusted basis.
The look forward
Upcoming economic data releases
Markit U.S. Manufacturing and Services PMI – Tuesday
Conference Board Consumer Confidence Index – Tuesday
Richmond Fed Manufacturing Index – Tuesday
Chicago Fed National Activity Index – Thursday
Fourth-Quarter GDP (Second Estimate) – Thursday
Jobless Claims – Thursday
Core PCE – Thursday
New Homes Sales – Thursday
Durable Goods Orders – Friday
Personal Spending – Friday
Upcoming Federal Reserve Speakers

Bostic – Tuesday
Daly – Wednesday
Barkin, Bostic, Mester, Daly, Waller – Thursday
---
Market implied policy path (Overnight indexed swap rates)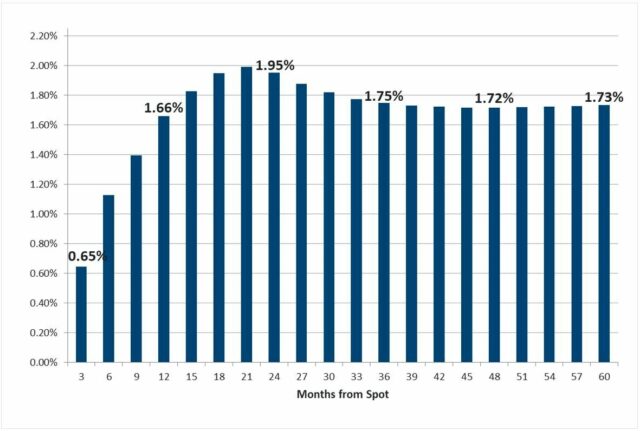 ---
Disclaimers
Chatham Hedging Advisors, LLC (CHA) is a subsidiary of Chatham Financial Corp. and provides hedge advisory, accounting and execution services related to swap transactions in the United States. CHA is registered with the Commodity Futures Trading Commission (CFTC) as a commodity trading advisor and is a member of the National Futures Association (NFA); however, neither the CFTC nor the NFA have passed upon the merits of participating in any advisory services offered by CHA. For further information, please visit chathamfinancial.com/legal-notices.
Transactions in over-the-counter derivatives (or "swaps") have significant risks, including, but not limited to, substantial risk of loss. You should consult your own business, legal, tax and accounting advisers with respect to proposed swap transaction and you should refrain from entering into any swap transaction unless you have fully understood the terms and risks of the transaction, including the extent of your potential risk of loss. This material has been prepared by a sales or trading employee or agent of Chatham Hedging Advisors and could be deemed a solicitation for entering into a derivatives transaction. This material is not a research report prepared by Chatham Hedging Advisors. If you are not an experienced user of the derivatives markets, capable of making independent trading decisions, then you should not rely solely on this communication in making trading decisions. All rights reserved.
22-0044