LIBOR transition market brief — Q3 2020
Authors

Director
Regulatory Advisory

Real Estate | Kennett Square, PA
Summary
Chatham's update on the LIBOR transition, summarizing upcoming deadlines, recent news, and available resources to help you stay current as the market transitions away from LIBOR.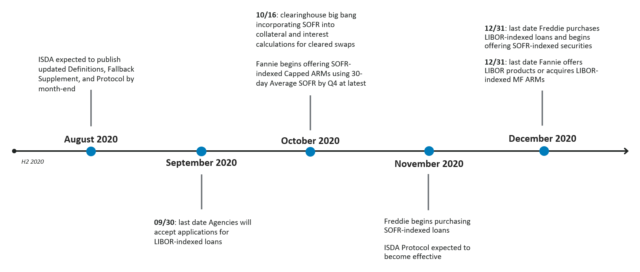 Transition timing and interim deadline extensions
Even amidst the global COVID-19 pandemic (see May 2020 Chatham market update), regulators and other market participants have continued to lay out transition plans and indicate that they plan to stick to the existing LIBOR transition timeline. However, we have seen two interim deadlines slip, suggesting that interim timelines may have some flexibility, though most officials have suggested that we are not likely to see further extensions and that transition could even happen sooner than expected.
In February of this year, the Federal Housing Finance Authority (FHFA), which regulates Freddie Mac, Fannie Mae, and the Federal Home Loan Banks (FHLBs), announced two significant milestones designed to stop the agencies from writing LIBOR-based Adjustable-Rate Mortgages (ARMs) and Structured Adjustable-Rate Mortgages (SARMs). Soon after, the world began to shut down in the face of COVID-19, and the FHFA extended a previously-established interim deadline related to the FHLBs' use of LIBOR-based instruments, giving them a 90-day extension. More recently, the agencies released their LIBOR transition playbook, suggesting that they'll continue to take steps to move from LIBOR to the Secured Overnight Financing Rate (SOFR) by the end of the year, as further discussed below. In April, the UK's Financial Conduct Authority (FCA) and the Bank of England announced a six-month extension of UK lenders' deadline to stop issuing GBP LIBOR-based loans.
Chatham recommends that market participants continue to prepare for transition as though there will be no easing of timing, though extension of deadlines, whether interim or final, is always possible.
LIBOR transition and Agency loans
In February 2020, Freddie Mac, Fannie Mae, and the FHFA laid out some clear deadlines to move the LIBOR transition forward over the course of 2020 and into 2021. Specifically, they announced that Freddie and Fannie will stop accepting LIBOR-based loan applications after the end of Q3 2020 and will stop purchasing LIBOR-based loans by the end of 2020. In Q2 2020, Fannie and Freddie released their LIBOR transition playbook, where they describe their plans to transition from LIBOR-based lending to lending based on SOFR compounded in advance. Their variable rate products will continue to require some form of interest protection, with Fannie offering to embed the cost of a cap into a SOFR-based loan and Freddie temporarily accepting LIBOR-based caps on SOFR-based loans, provided that borrowers meet criteria around replacement reserves, limited guarantees, and acceptance of Freddie's updated form LIBOR cap documentation.
For more information on SOFR and its calculation conventions, see Chatham's SOFR: an end-user's guide.
Market adoption and challenges
Through the COVID-19 pandemic to date, SOFR's adoption has had some ups and downs.
SOFR cross-currency swap: As a positive sign for adoption, Chinese markets began to warm up to SOFR, including through execution of first USD/CNY cross-currency swap using SOFR towards the end of April.
Main Street Lending Program: On a less promising note, in April 2020, the Federal Reserve introduced the Main Street Lending Program in response to the pandemic and initially proposed using SOFR as the index underlying loans to small and medium-sized businesses; but in response to negative market feedback, largely from regional and community financial institutions, they switched to using LIBOR. The Fed lays this out in detail in their FAQ, and Bloomberg also provides analysis here.
Other open issues: SOFR has also faced challenges in a lack of liquidity in SOFR derivatives and the growing concerns over SOFR's lack of a credit component, which AMERIBOR, the ICE Bank Yield Index, and IHS Markit's dynamic credit spread have been designed to address. Amidst this market dynamic, on July 21, ISDA and Bloomberg announced that Bloomberg has begun calculating and publishing fallbacks that ISDA intends to implement to facilitate the transition from USD LIBOR to SOFR.
Resources
Chatham Financial has prepared the following resources:
The New York Fed publishes the following SOFR rates each business day at 8 a.m. EST:

SOFR averages - compounded averages of the SOFR over rolling 30-, 90-, and 180-calendar day periods
SOFR index - reflects the cumulative impact of compounding the SOFR on a unit of investment over time, allowing for calculation of compounded SOFR averages over custom time periods

Some of the key players in LIBOR transition have published the following
---
Speak to a Chatham expert
Please reach out to the Chatham team if you have questions about how the LIBOR transition could impact your loans and derivatives.
---
Disclaimers
Chatham Hedging Advisors, LLC (CHA) is a subsidiary of Chatham Financial Corp. and provides hedge advisory, accounting and execution services related to swap transactions in the United States. CHA is registered with the Commodity Futures Trading Commission (CFTC) as a commodity trading advisor and is a member of the National Futures Association (NFA); however, neither the CFTC nor the NFA have passed upon the merits of participating in any advisory services offered by CHA. For further information, please visit chathamfinancial.com/legal-notices.
Transactions in over-the-counter derivatives (or "swaps") have significant risks, including, but not limited to, substantial risk of loss. You should consult your own business, legal, tax and accounting advisers with respect to proposed swap transaction and you should refrain from entering into any swap transaction unless you have fully understood the terms and risks of the transaction, including the extent of your potential risk of loss. This material has been prepared by a sales or trading employee or agent of Chatham Hedging Advisors and could be deemed a solicitation for entering into a derivatives transaction. This material is not a research report prepared by Chatham Hedging Advisors. If you are not an experienced user of the derivatives markets, capable of making independent trading decisions, then you should not rely solely on this communication in making trading decisions. All rights reserved.
20-0315