LIBOR transition update — Q1 2021 review
Summary
Chatham's update on the LIBOR transition, summarizing recent news, transaction activity, and upcoming deadlines to help you stay current as the market transitions away from LIBOR.
The biggest news this quarter is that regulators have confirmed that all tenors of GBP LIBOR will be published through the end of this year and that one- and three-month USD LIBOR will continue to be published on a representative basis through June 30, 2023. In the case of USD LIBOR-based loans, these announcements could have the effect of eliminating the need for LIBOR transition in any loans or derivatives that mature before then, which would relieve many borrowers, lenders, and hedge providers alike. However, borrowers remain advised to take inventory of their specific fallback language and remain cognizant of the possibility that language containing "early opt-in" provisions could result in an earlier transition than the June 30, 2023 date. For transactions that extend beyond those dates, the market continues to consider how best to transition to (and use, more generally) a risk-free rate, given the pros and cons associated with different fallbacks.
We address these and other regulatory and legislative updates below, along with some things to keep in mind as we head into the middle of the year.
Q1 2021 Highlights in LIBOR-SOFR Transition
Revised ISDA definitions/Protocol take effect
IBA consultation, extension of USD LIBOR, and potential for "synthetic" LIBOR (March 2021)
The FCA curtails new GBP LIBOR issuance (March 2021)
Announcement of delay in SOFR term rate (March 2021)
New York state legislation (April 2021)
CME proposal for converting cleared LIBOR swaps (April 2021)
Update to ISDA's Interest Rate Derivatives Definitions (May 2021)
Bloomberg Short-Term Bank Yield Index (BSBY)
SOFR and SONIA Market Activity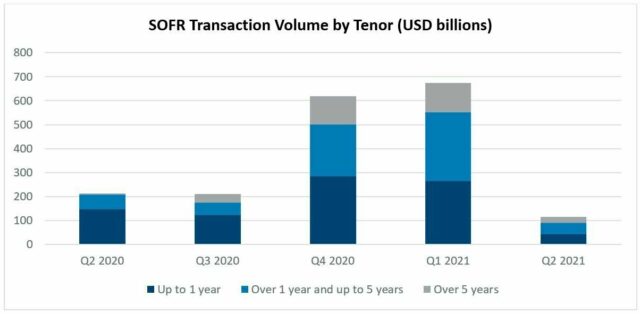 Recent and Upcoming Highlights in LIBOR Transition
There are a number of events we continue to await, some with specific dates associated with them:
December 31, 2021

GBP LIBOR (all tenors) will no longer be published on a representative basis, subject to FCA consultation on "synthetic" GBP LIBOR
No new LIBOR-based loan or hedge products, per U.S. prudential regulators

Sometime in 2021

FCA will consult on whether to allow publication of a new "synthetic" GBP LIBOR continuing beyond this date, for purposes of legacy contracts
U.S. lenders likely begin to move away from LIBOR-based lending
Federal legislation may advance

June 30, 2023

One- and three-month USD LIBOR will no longer be published on a representative basis, subject to FCA consideration of a "synthetic" USD LIBOR
---
Get help with your LIBOR transition
Please reach out to the Chatham team if you have questions about how the LIBOR transition could impact your loans and derivatives.
---
Disclaimers
Chatham Hedging Advisors, LLC (CHA) is a subsidiary of Chatham Financial Corp. and provides hedge advisory, accounting and execution services related to swap transactions in the United States. CHA is registered with the Commodity Futures Trading Commission (CFTC) as a commodity trading advisor and is a member of the National Futures Association (NFA); however, neither the CFTC nor the NFA have passed upon the merits of participating in any advisory services offered by CHA. For further information, please visit chathamfinancial.com/legal-notices.
Transactions in over-the-counter derivatives (or "swaps") have significant risks, including, but not limited to, substantial risk of loss. You should consult your own business, legal, tax and accounting advisers with respect to proposed swap transaction and you should refrain from entering into any swap transaction unless you have fully understood the terms and risks of the transaction, including the extent of your potential risk of loss. This material has been prepared by a sales or trading employee or agent of Chatham Hedging Advisors and could be deemed a solicitation for entering into a derivatives transaction. This material is not a research report prepared by Chatham Hedging Advisors. If you are not an experienced user of the derivatives markets, capable of making independent trading decisions, then you should not rely solely on this communication in making trading decisions. All rights reserved.
21-0109