Inflation persists despite historically fast hikes
Authors

Hedging and Capital Markets

Real Estate | Kennett Square, PA
Summary
On Wednesday, November 2, the Federal Open Market Committee (FOMC) voted unanimously to raise the federal funds target range by 75 basis points to 3.75–4.00%. This rate hike is guided by their long-term dual mandate of price stability and simultaneously ensuring maximum employment. The Fed is committed to lowering inflation to their 2% target range but will remain cognizant of overtightening, understanding there is a lag from implementation to impact with monetary policy. A path to a soft landing has narrowed but remains plausible. Additional rate hikes will be required to meet their objectives and pausing rate hikes will have adverse effects in the long term.
Key takeaways
The Federal Reserve unanimously voted to raise the federal funds target range by 75 bps. to a target range of 375–400 bps. This is their fourth consecutive rate hike of 75 basis points.
The Federal Reserve noted they will take cumulative hikes and lags into account for ongoing rate hikes. Chair Powell also stated that the board aims to move rates to a restrictive territory for a period of time necessary to reduce inflation.
The board believes the risk of pausing rate hikes will outweigh the risk of overtightening.
FOMC recap
The Federal Reserve voted unanimously to increase the federal funds target range by 75 basis points, the fourth consecutive increase of this size and sixth consecutive increase this year. Powell noted that a strong labor market and savings remaining on people's balance sheet may ease inflationary pressures with individuals still spending despite a prolonged period of inflation. The Fed realizes inflation is the biggest burden to low-income earning Americans. The board remains committed to lowering inflation, and Chair Powell noted the board's focus is determining how high to increase rates and how long is necessary to keep rates elevated. The board is open to discussing the slowing of rate hikes at the December meeting or the meeting after based on the future data but are far from pausing hikes.
Impact on rates
The board is remaining hawkish in its approach to rate hikes and believes we have "some ways to go" before pausing hikes. The board will continue to raise interest rates until they see evidence that they are putting meaningful downward pressure on inflation. Chair Powell noted the board would like to see empirical data showing slowed growth in the economy and signs that monetary tightening is successful. Powell noted that reducing interest rate hikes too soon could make inflation entrenched into the economy.
The board is committed to maintaining at a restrictive level for a sustained period. The Federal Reserve does not believe to have overtightened since inflation is still above the federal funds rate and they believe real rates will need to be positive for some time to have overtightened.
As seen above, interest rate cap prices are much higher than after the September Fed meeting. This is due to the increase in expectations for continued rate hikes following additional data.
As seen below, the expectations for rate hikes have increased since the September Fed meeting. The peak of the 1-month Term SOFR forward curve has increased by approximately 50 basis points since the last meeting.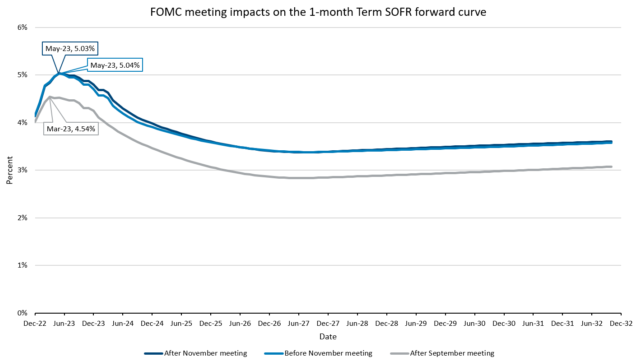 Moving forward
The Federal Reserve is attentive to inflation and incoming data which could impact their monetary policy moving forward. Chair Powell stated a soft landing is becoming harder to achieve, and the board will continue to raise rates as much as it has to in order to reduce inflation. After the meeting, the market is pricing in a greater than 56% probability of a 50-basis-point hike and a 43% probability of a 75-basis-point hike at the December meeting. Floating-rate borrowers can expect consistent increases in interest rates in the near term with the Federal Reserve Board focusing on battling inflation. Chatham focuses on helping our clients hedge their interest rate risk in numerous ways. To follow the developments of the market's expectations of the forward interest rates visit Chatham Rates or subscribe to our newsletter below.
Subscribe to receive analysis and insights regarding the Federal Reserve policy updates
---
Disclaimers
Chatham Hedging Advisors, LLC (CHA) is a subsidiary of Chatham Financial Corp. and provides hedge advisory, accounting and execution services related to swap transactions in the United States. CHA is registered with the Commodity Futures Trading Commission (CFTC) as a commodity trading advisor and is a member of the National Futures Association (NFA); however, neither the CFTC nor the NFA have passed upon the merits of participating in any advisory services offered by CHA. For further information, please visit chathamfinancial.com/legal-notices.
Transactions in over-the-counter derivatives (or "swaps") have significant risks, including, but not limited to, substantial risk of loss. You should consult your own business, legal, tax and accounting advisers with respect to proposed swap transaction and you should refrain from entering into any swap transaction unless you have fully understood the terms and risks of the transaction, including the extent of your potential risk of loss. This material has been prepared by a sales or trading employee or agent of Chatham Hedging Advisors and could be deemed a solicitation for entering into a derivatives transaction. This material is not a research report prepared by Chatham Hedging Advisors. If you are not an experienced user of the derivatives markets, capable of making independent trading decisions, then you should not rely solely on this communication in making trading decisions. All rights reserved.
22-0286