Rates fall, November NFP impresses
Authors

Associate Director
Balance Sheet Risk Management

Financial Institutions | Kennett Square, PA
Summary
Treasury yields continued to march lower across a flatter curve as investors digested the latest commentary from Federal Reserve Chair Jerome Powell and the most recent economic updates, including the November non-farm payroll report.
Interest rates
Treasury yields continued to fall last week across a more inverted curve.

Despite experiencing a significant drop last week, Treasury yields took another leg lower mid-week after Federal Reserve Chair Jerome Powell opened the door for smaller hikes beginning "as soon as the December meeting."
The long end of the curve saw a moderately more pronounced pullback last week, pushing the 2s/10s basis further into negative territory at -0.79%, the deepest inversion since 1981.

Although several Federal Reserve officials had already expressed support for slowing the pace of interest rate increases, Jerome Powell's support for such a move on Wednesday lent credence to the expected change in pace and sparked a recalibration of bets for Fed action in the next year.

While Treasury yields moved significantly after Powell suggested that smaller hikes could begin as early as the next FOMC meeting, fed funds futures pricing for December hardly moved as the market already expected a 50 basis point hike at the December 13-14 meeting.
Interestingly, expectations for 2023 drove the decline.

The peak federal funds effective rate expected by the market now sits approximately 25 basis points lower than the week prior's expectation.
Similarly, market participants now expect the policy rate to sit 50 basis points higher than current levels in December of next year compared to a 75 basis point expectation the week prior.
Trading commentary
Hedging activity remained elevated last week as clients looked to fine-tune their interest rate risk positions before the quickly approaching end of the year.
Although strategies designed to protect against a falling interest rate environment garnered the most interest year-to-date, we saw substantial activity in the other direction last week.

Specifically, we helped several clients leverage the new improvement to the fair value hedge accounting framework, the Portfolio Layer Method, and hedge 30-year residential mortgages and long-dated municipal securities.
Achieving hedge accounting for these strategies has become more attainable in recent quarters as the Portfolio Layer Method update expanded the criteria for eligible assets and allowed for multiple hedges against one designated portfolio.

We continue to see clients reduce asset sensitivity by extending the duration of the floating rate commercial real estate portfolio using plain-vanilla receive-fixed swaps and costless collars.
Early-stage delinquencies rise at U.S. banks
According to an analysis conducted by S&P Capital IQ, U.S. banks reported notable increases in credit card loan and early-stage delinquencies in the third quarter.

Yearly, credit card delinquencies increased by 0.55%, while auto loan delinquencies increased by an even greater 0.60%.
Early-stage delinquencies have also picked up significantly, increasing nearly 30% from one year ago.

Despite the rise in early-stage delinquencies, big bank executives have downplayed the relative decrease in credit quality at recent earnings calls and conferences.

JPMorgan Chase & Co. CEO Jamie Dimon recently commented, "credit card borrowing is normalizing, not getting worse," while Bank of America Corp. Chairman and CEO Brian Moynihan hailed the "resilient" consumer.
Economic data
Market participants received a slew of economic updates last week, including consumer confidence, third-quarter GDP, and the November non-farm payroll report.
Reinforcing the findings of the University of Michigan's Consumer Sentiment Index, consumer confidence is waning in the face of high interest rates and elevated inflation, according to the latest Conference Board Consumer Confidence Survey release.

The release soured investor sentiment as the Survey reading fell to a four-month low, and the measure for consumers' current outlook fell to its lowest level since April 2021.
Notably, consumers' expectations for the future also declined since October as inflation expectations remain high and consumers suspend purchases of big-ticket items in the face of historically elevated borrowing costs.

According to the Commerce Department, the U.S. economy expanded at a 2.9% annualized pace in the third quarter, above the consensus estimate and far exceeding the 2.6% initial estimate released last month.

Digging into the release, strong consumer spending and business investment led to the significant pick-up over the second quarter figure, as well as advances in government spending and net exports.
Looking ahead, the Atlanta Fed's GDPNow tool, which attempts to predict the current quarter's GDP in real-time, forecasts the U.S. economy to expand at a 2.8% annualized pace in the fourth quarter, near the third quarter's pace but far below the 4.4% model estimate seen in mid-November.

Finally, the November non-farm payroll report, released Friday, garnered the lion's share of investor attention last week.

According to the Labor Department, the U.S. economy added 263,000 jobs in November, well above the consensus estimate but slightly below the upwardly revised 284,000 job additions reported in October.
Price pressures remained firm as average hourly earnings increased twice the consensus estimate month-over-month at 0.6%.
A strong jobs report and a hot average hourly earnings figure sent rates moderately higher on Friday as investors grew more confident that the Fed would continue tightening financial conditions.
The look forward
Upcoming economic data releases

S&P Global Services / Composite PMIs – Monday
Factory Orders – Monday
Durable Goods Orders – Monday
Trade Balance – Tuesday
MBA Mortgage Applications – Wednesday
Jobless Claims – Thursday
Producer Price Index – Thursday
Wholesale Inventories – Friday
University of Michigan Consumer Sentiment Index - Friday

Upcoming Federal Reserve Speakers

There will be no Federal Reserve speakers this week.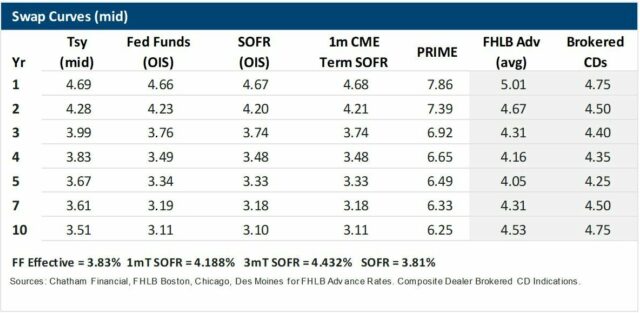 Market implied policy path (overnight indexed swap rates)
---
Disclaimers
Chatham Hedging Advisors, LLC (CHA) is a subsidiary of Chatham Financial Corp. and provides hedge advisory, accounting and execution services related to swap transactions in the United States. CHA is registered with the Commodity Futures Trading Commission (CFTC) as a commodity trading advisor and is a member of the National Futures Association (NFA); however, neither the CFTC nor the NFA have passed upon the merits of participating in any advisory services offered by CHA. For further information, please visit chathamfinancial.com/legal-notices.
Transactions in over-the-counter derivatives (or "swaps") have significant risks, including, but not limited to, substantial risk of loss. You should consult your own business, legal, tax and accounting advisers with respect to proposed swap transaction and you should refrain from entering into any swap transaction unless you have fully understood the terms and risks of the transaction, including the extent of your potential risk of loss. This material has been prepared by a sales or trading employee or agent of Chatham Hedging Advisors and could be deemed a solicitation for entering into a derivatives transaction. This material is not a research report prepared by Chatham Hedging Advisors. If you are not an experienced user of the derivatives markets, capable of making independent trading decisions, then you should not rely solely on this communication in making trading decisions. All rights reserved.
22-0311