March NFP falls short of expectations, 2s/10s inverts
Authors

Associate Director
Balance Sheet Risk Management

Financial Institutions | Kennett Square, PA
Summary
As investors digested a packed economic calendar, the latest developments out of Ukraine, and comments from a host of Federal Reserve officials, short-term rates continued to push higher on the back of expectations for an aggressive Federal Reserve policy stance. The long end of the curve moved lower in the face of weakening long-term growth prospects.
Interest rates
Thursday marked the end of one of the most volatile months for the Treasury market in recent memory.

The two-year Treasury yield added more than 100 basis points since the start of March as investors priced in the prospect of a very hawkish Federal Reserve striving to curb a high inflation environment.

To put the shift in investors' expectations into perspective, on March 1, investors were expecting just under five quarter-point hikes for the entirety of 2022. Looking at the Fed Funds futures market pricing on Friday, investors now expect just under nine additional quarter-point hikes in 2022, roughly double the expectation just one month ago.
Last week's significant run-up in short-term yields coupled with a moderate pull-back at the long end of the curve drove the two-year yield above the 10-year yield for the first time since August 2019.

As of Friday, the 2s/10s basis sat at negative eight basis points, marking a stark contrast to the multi-year high of 157 basis points set one year ago and notching the lowest level since November 2006.

The inversion of the 2s/10s basis soured investor sentiment somewhat as an inversion of the basis is often followed by a recession.
While the five-year breakeven inflation rate increased roughly 10 basis points in March, five-year expectations collapsed week over week, falling roughly 33 basis points to end Friday at 3.4%.

The Fed-watched five-year forward, five-year breakeven inflation rate remained unchanged last week, sitting roughly 15 basis points above its yearly average at 2.38%.
Trading commentary
Hedging activity remained elevated last week as we closed out the first quarter of 2022.
We continue to see substantial activity from clients monetizing the front-end of the curve to smooth earnings in the expected rising rate environment.

Looking at market pricing on Friday, a two-year Fed Funds receive-fixed swap offers over 200 basis points of initial compensation, a meaningful pickup from the 116 basis points offered one month ago.

Regarding structuring, we continue to see the floating-rate loan portfolio, particularly loans tied to Prime, one-month LIBOR, SOFR, and BSBY, as the primary vehicle for the down-rate hedging activity crossing our balance sheet desk.
Rising rate hedging activity remains popular as clients look to protect against further declines in the investment portfolio and lock in the cost of expected future wholesale funding.
Separately, our back-to-back trading desk saw significant hedging activity from commercial borrowers last week as borrowers rushed to close deals before the end of the quarter or lock in long-term fixed-rate financing at current levels.
Small C&I loans fall from 2020 highs
Although loan demand seemingly picked up across the country in the second half of 2021, small C&I loans, those that start with an original notional of $1 million or less, saw a sizeable drop off from the historically high volumes seen at the start of the pandemic as PPP loan balances shrunk.
According to S&P Capital IQ, total small C&I loan balances at U.S. banks fell 28.2% year-over-year, landing at levels last seen before the pandemic.

Of the 20 largest U.S. banks, 16 banks reported a drop in small C&I loan balances year-over-year, resulting in a 19.5% drop off in balances for 2021.

While small C&I loan balances have fallen significantly in 2021, analysts have suggested that the segment may experience growth in 2022 as loan demand continues to improve and many PPP loans have already run off.
Economic data
While the economic calendar was packed with high-profile data releases last week, all attention turned to the March non-farm payroll report on Friday that indicated the U.S. economy added 431,000 jobs in March, roughly 60,000 jobs lower than the consensus expectation and well below the upwardly revised 750,000 jobs added in February.

Although the latest employment report fell shy of expectations, job creation has been plentiful to start the year with 1.686 million jobs added since the turn of the year, a 562,000 jobs/month pace.

Digging into the report, the leisure and hospitality sector led the charge higher, adding 112,000 jobs in March as this winter's omicron surge faded and government restrictions lifted.
Notably, the strong employment reports for January and February were revised higher by a net 95,000 jobs.
The unemployment rate ticked lower than expected to 3.6%, while the U-6 unemployment rate continued to decline, falling to 6.9%.
Consumer sentiment looks to be holding steady in the face of historically elevated inflation and the war in Ukraine with the Conference Board Consumer Confidence Index moving slightly higher to 107.2 in March, just above the downwardly revised 105.7 reading seen in February.

Looking at the report, inflation remains top-of-mind for consumers, with the average respondent expecting inflation to run at 7.9% in the next year, the highest expectation in series history.

In a bright spot, respondents' outlook on the current environment improved the most since last June, and the share of respondents who anticipate an increase in their income within the next six months edged higher.
Finally, the ISM Manufacturing Index fell to its lowest level since September 2020 as new orders and production slowed in March.
The ISM Prices Paid component grabbed significant attention from investors, moving well above the consensus estimate to the highest level seen since June 2021.

The significant pickup in the prices paid component suggests that the recent rise in many commodity prices stemming from the war in Ukraine has impacted U.S. manufacturers.
The look forward
Upcoming economic data releases
Factory Orders – Monday
Durable Goods Orders – Monday
ISM Services Index – Tuesday
FOMC Meeting Minutes - Wednesday
Jobless Claims – Thursday
Continuing Claims – Thursday
Wholesale Inventories – Friday
Upcoming Federal Reserve Speakers

Brainard, Daly, Williams – Tuesday
Harker – Wednesday
Bullard, Bostic – Thursday
---
Market implied policy path (Overnight indexed swap rates)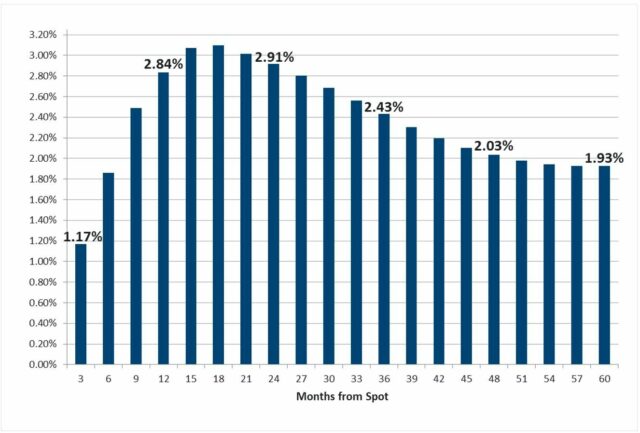 ---
Disclaimers
Chatham Hedging Advisors, LLC (CHA) is a subsidiary of Chatham Financial Corp. and provides hedge advisory, accounting and execution services related to swap transactions in the United States. CHA is registered with the Commodity Futures Trading Commission (CFTC) as a commodity trading advisor and is a member of the National Futures Association (NFA); however, neither the CFTC nor the NFA have passed upon the merits of participating in any advisory services offered by CHA. For further information, please visit chathamfinancial.com/legal-notices.
Transactions in over-the-counter derivatives (or "swaps") have significant risks, including, but not limited to, substantial risk of loss. You should consult your own business, legal, tax and accounting advisers with respect to proposed swap transaction and you should refrain from entering into any swap transaction unless you have fully understood the terms and risks of the transaction, including the extent of your potential risk of loss. This material has been prepared by a sales or trading employee or agent of Chatham Hedging Advisors and could be deemed a solicitation for entering into a derivatives transaction. This material is not a research report prepared by Chatham Hedging Advisors. If you are not an experienced user of the derivatives markets, capable of making independent trading decisions, then you should not rely solely on this communication in making trading decisions. All rights reserved.
22-0082