FOMC hikes 75bps, October NFP shows strength
Authors

Associate Director
Balance Sheet Risk Management

Financial Institutions | Kennett Square, PA
Summary
Treasury yields increased sharply, while the major U.S. equity indices broke lower as investors reacted to the November FOMC meeting, third-quarter earnings, and the October non-farm payroll release.
Interest rates
Treasury yields advanced across a flatter curve while volatility remained elevated last week.

After falling 19 basis points the week prior, the 10-year Treasury yield erased much of the decline, advancing 15 basis points last week to 4.17%.
Highlighting the historically elevated level of volatility, the 2-year and 10-year Treasury yields moved over 30 basis points peak-to-trough in the last 10 trading days.
Despite widening moderately in late October, the 2s/10s basis remains deeply inverted, ending the week at -0.50% and notching a 40-year low of -0.57% on Wednesday.

In a widely expected move, the FOMC increased the Target Range by 75 basis points to a new level of 3.75–4.00%.

Although market participants expected the move, they gleaned plenty of new information from the FOMC's updated statement and Jerome Powell's press conference on Wednesday.

Specifically, the FOMC alluded to slowing the pace of interest rate hikes in the future, commenting that the Committee will "take into account the cumulative tightening of monetary policy" when assessing further increases to the Target Range.
Jerome Powell also cautioned that a higher terminal rate might be in the offing after "incoming data since our last meeting" highlighted the need for higher rates than thought in September.

Looking at Federal Funds futures market pricing at the close on Friday, expectations for the near term remain effectively unchanged, but interestingly, market participants are now pricing in a Fed Funds rate approximately 25 basis points higher at the end of 2023 compared to expectations before the meeting.
Trading commentary
Hedging activity continued in earnest across our balance sheet trading desk despite slowing briefly in the lead-up to the November FOMC monetary policy meeting.
Although we saw a wide range of hedging strategies implemented in the last quarter, most hedging clients executed strategies designed to protect net interest margin from a decline in interest rates and utilized plain vanilla receive-fixed swaps to mitigate their interest rate risk exposure.

In the last month, we have seen a notable rise in 1m CME Term SOFR hedges as more clients build critical masses in these portfolios and accumulate sufficient size for hedging to make practical sense.
Despite the pickup in options-based hedges in the last two quarters, plain vanilla interest rate swaps remain the most popular derivative product utilized, given the relative cost to enter and the product's interest rate hedging efficiency.

Less than half of the strategy implementations crossing our balance sheet hedging desk in recent months aimed to mitigate exposure to a rising interest rate environment.

Clients hedging for higher rates have primarily designated short-term SOFR-based FHLB advances as the balance sheet item to achieve favorable hedge accounting treatment.
Clients who lacked a need for wholesale funding but were eager to hedge the risk in AOCI exacerbated by the securities portfolio have looked to hedge pools of AFS securities directly, utilizing the new Portfolio Layer Method framework.
AOCI pain continues in the third quarter
As rates marched higher in Q3, so did the losses in AOCI stemming from the fixed-rate securities portfolio for many U.S. financial institutions.
According to S&P Global Market Intelligence, the aggregate AOCI decline for the 15 largest U.S. banks increased nearly $34 billion In the third quarter to -$165.91 billion.

The third quarter mark fared worse than the decline in the second quarter but remained well inside the $54.14 billion drop in the first quarter.

Looking at third-quarter earnings commentary, many institutions commented on the dual practice of hedging securities directly with interest rate derivatives and placing others in a held-to-maturity designation to protect against further declines in AOCI from rising interest rates.
Economic data
The manufacturing industry outlook continued to worsen after the national ISM Manufacturing Index, the Dallas Fed Manufacturing Index, and the MNI Chicago PMI each posted levels weaker than the month prior.

Digging into the ISM Manufacturing release, new orders and production levels declined significantly, while 50% of the measured industry subsegments reported employment growth.
In a bright spot, the prices paid component showed a further easing of inflationary pressures falling to a two-year low.

Despite many releases dotting last week's economic calendar, investors fixated their attention on October's non-farm payroll releases.

According to the Labor Department, the U.S. economy added 261,000 jobs in October, far above analyst estimates but slightly below the job additions seen the month prior.
Analysts were quick to comment that the strength of the October release will reinforce the Fed's hawkish stance and allows the Federal Reserve to remain focused on combatting inflation.
The unemployment rose more than expected in October to 3.7% as the labor force participation rate declined to its lowest level since July.
The look forward
Upcoming economic data releases

MBA Mortgage Applications – Wednesday
Wholesale Inventories – Wednesday
Consumer Price Index – Thursday
Jobless Claims – Thursday
University of Michigan Consumer Sentiment Index – Friday

Upcoming Federal Reserve Speakers

Collins, Barkin – Monday
Williams, Barkin – Wednesday
Waller, Harker, Logan, Daly, Mester, George – Thursday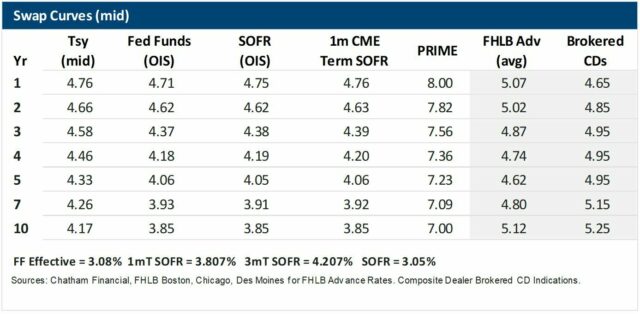 Market implied policy path (overnight indexed swap rates)
---
Disclaimers
Chatham Hedging Advisors, LLC (CHA) is a subsidiary of Chatham Financial Corp. and provides hedge advisory, accounting and execution services related to swap transactions in the United States. CHA is registered with the Commodity Futures Trading Commission (CFTC) as a commodity trading advisor and is a member of the National Futures Association (NFA); however, neither the CFTC nor the NFA have passed upon the merits of participating in any advisory services offered by CHA. For further information, please visit chathamfinancial.com/legal-notices.
Transactions in over-the-counter derivatives (or "swaps") have significant risks, including, but not limited to, substantial risk of loss. You should consult your own business, legal, tax and accounting advisers with respect to proposed swap transaction and you should refrain from entering into any swap transaction unless you have fully understood the terms and risks of the transaction, including the extent of your potential risk of loss. This material has been prepared by a sales or trading employee or agent of Chatham Hedging Advisors and could be deemed a solicitation for entering into a derivatives transaction. This material is not a research report prepared by Chatham Hedging Advisors. If you are not an experienced user of the derivatives markets, capable of making independent trading decisions, then you should not rely solely on this communication in making trading decisions. All rights reserved.
22-0288